Marta Grabka
HR Manager
Not only did Agata's courses motivate me to learn English on my own, but they also proved that learning can be pure joy. What I like most about the courses is their simple, effortless, and fun form in which you'll come across extremely useful, day-to-day expressions. The movie clips included in the courses are thoroughly selected by Agata. Thus, on the one hand you'll learn everyday speech and on the other hand you'll remember them thanks to entertaining and engaging positive associations that you'll be able to make while going over the courses. I recommend you Agata if you want to learn practical everyday English.
Aleksandra Bykowska
Project manager, coaching client
Facing the world full of omnipresent self development seen in numerous self-help books, courses, and tests, it seems particularly challenging to find yourself and your personal guide. After a long search, I finally came across Agata. Right after our first talk, I knew she was the best fit to work and grow with. Agata is exceedingly engaged and passionate about all our coaching sessions. Her individual, insightful, flexible approach builds up a safe atmosphere full of support and acceptance. Agata creates a space in which you can emerge yourself in order to discover yourself, change your perspective, and find your answers. Each coaching session gives me energy and an action plan with further steps. Above all, I feel stronger and closer to myself.
Marta Pieczyńska
HR Business Partner
Agata magically combines three areas in her Method:  knowledge about learning and teaching, theoretical and practical aspects of the English language and finally coaching skills. Her exceptionalism is seen in the outstanding tolerance and sensitivity toward another man. First time in my life I'm learning English guilt-free and in all conscience. Agata helps me get over my negative experiences. In addition, she helps me find my optimal way to learn and at the same time she provides me with the tailor-made content and educational materials. Her courses are modern, interesting and what's even more important, they're  effective!
"Agata's Way" - the e-learning platform itself is definitely not another course digging into the complexity of grammar and revealing units of typical textbooks. The quizzes in the courses are compelling, approachable, affecting all my senses, which helps me retrieve everything that I've already learned. I'm practicing my pronunciation. I'm honing my listening skills by learning day-to-day phrases. I'm getting a grasp on grammar structures that are finally becoming clear to me.
"Agata's Way" is primarily a holistic approach to a customer and the whole learning process. This is a fun, pleasant and interesting way of learning. This is the way I've never faced before and I recommend it particularly to those who may think they don't have a gift for languages.
Adrian Wrociński
Business consultant, trainer, mentor, coach, business co-owner @ Milado.com
MasterMind classes are exceedingly developmental meetings during which you share your afterthoughts and experiences with people who want to grow along and support one another. Additionally, everything is embellished with the language input. Every week we read one chapter from an inspiring book by John C. Maxwell. We also get tasks to do, quizzes, and useful vocabulary-based materials at our disposal. Most importantly, however, this is Agata who runs the meetings greatheartedly and with a vengeance and mission to promote self development in English.
Monika Ratajczak
Planning specialist
I don't remember how many times I attempted to learn English and understand English grammar with no success. It was only when I started learning with Agata's Way e-learning platform that I started to notice results after each and every lesson. I work for an international company and I've finally begun to confidently speak and answer emails.  Mrs. Agata Gorzelana-Weinstok is an extremely  friendly person with a huge gift and skill to teach. The lessons on the platform are an additional  advantage as a mother of three I don't have much free time. This form of lessons enables me to have short training sessions in any place or situation.
The lessons are compelling and varied thanks to nice TV serial clips and great quizzes that help me consolidate my vocabulary and grammar structures. I can quickly learn new phrases and implement them in a new situation. That is an idea of  English at your hand.  
I highly recommend it.
Emilia Mierzwa
Pharmacist
Jestem farmaceutką z 9 letnim doświadczeniem. Lubię pracę w aptece, ale od zawsze chciałam też spróbować swoich siły w międzynarodowej firmie farmaceutycznej. Na przeszkodzie stała tylko znajomość języka angielskiego. I tak poznałam Agatę, z którą na indywidualnych lekcjach i platformie e.agatasway.com intensywnie pracowałyśmy i nadal pracujemy nad moim angielskim. Zaczęłam robić postępy, przestałam bać się używać języka angielskiego w codziennych sytuacjach i powoli zaczęłam myśleć o wysyłaniu aplikacji.
Ale rozmowa o pracę to ogromny stres, a rozmowa w języku obcym to dodatkowe wyzwanie, a ja nie miałam żadnego doświadczenia. Z pomocą po raz kolejny przyszła Agata, proponując kurs Nail your job Interview in English with Agat's Way. Kurs okazał się strzałem w dziesiątkę. Oprócz ciekawych i związanych z tematem job interview krótkich filmów, które rozpoczynają każdą lekcję, znalazłam mnóstwo praktycznych rad np. jak się zachować na rozmowie, bogate słownictwo, najczęściej zadawane pytania i mnóstwo przykładów jak na te pytania odpowiadać. A przykłady stały się inspiracją do tworzenia własnych odpowiedzi. Ćwiczenia, które znalazłam w kursie, fiszki czy możliwość nagrywania własnych odpowiedzi, pozwoliły opanować materiał do tego stopnia, że teraz odpowiedzi nasuwają się same, a na myśl o rozmowie już nie mam tego nieprzyjemnego kłucia w brzuchu.
Nie mogę też pominąć faktu, że kurs jest bardzo estetyczny, ładny i stworzony tak, że korzystanie z niego to sama przyjemność.
Polecam kurs Nail your job Interview in English with Agat's Way wszystkim osobom, ponieważ nawet jeśli teraz nie poszukują nowego stanowiska to nigdy nie wiemy, czy za moment nie będzie czekała nas rozmowa o pracę, a nie ma lepszej recepty niż dobre przygotowanie. Dodatkowo poznane zwroty czy słownictwo można też wykorzystać w codziennych sytuacjach ☺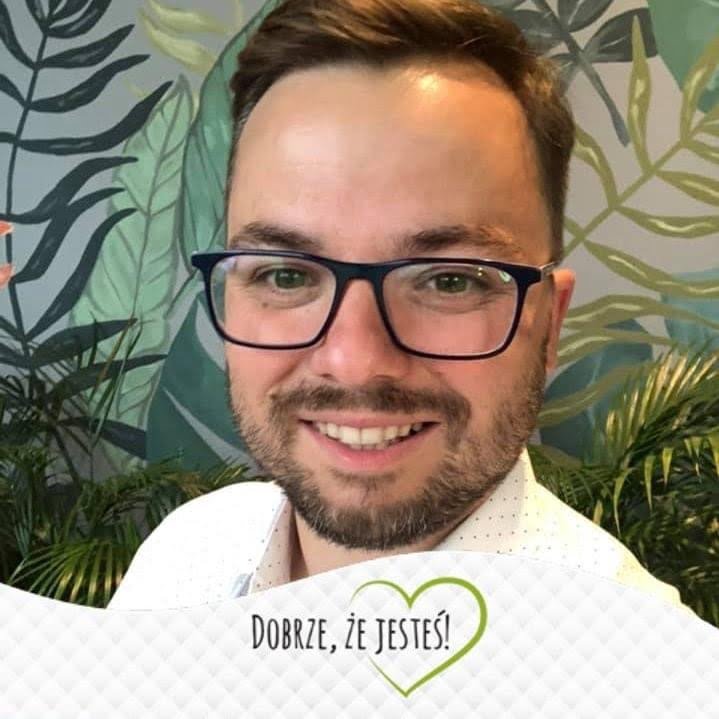 Wojciech Wrociński
Business owner @ ReklamowyGadżet.pl
I'm highly impressed how you can nicely connect a discussion of several people on leadership, which is a serious topic, with development of communication skills in English. 
Agata has always been prepared and professional, but the atmosphere she's been creating was sufficient to talk freely and easily. What was interesting, we were given various tasks to do between meetings, including reading chapters or solving language puzzles and quizzes. 
I'm looking forward to more MasterMind classes with Agata!